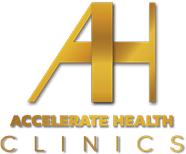 ---
WHO WE ARE

---
Accelerate Health is a full-service anti-aging clinic designed to help you replenish your youth!

We specialize in anti-aging including the latest hormone support therapy, integrative medicine, regenerative cell therapy, botox and Xeomin treatments, IV hydration and specialty lab testing.

Accelerate Health will address your needs and lifestyle while restoring your hormones to more youthful levels.


MORE INFORMATION
FREE CONSULTATION

---
Our Hormone Therapy Process to Get Started:

1. Book your consultation.
2. Run your labs at our local clinic or through a partner lab.
3. Results within 24-48 hours with treatment initiated as soon as possible!

---

---
With our Accelerate Health Program you can expect to receive first class medically supervised care, including:

- Personalized Natural Bioidentical Hormone Replacement Therapy
- Monitoring for appropriate treatment dosages at 1-month,
3-months, 6-months and 1 year in order to optimize results.
- Hands-on guidance with rapid response to all questions you may have about your program.


What Is An Anti-Aging Clinic?

---
An anti-aging clinic in San Diego is where you can receive regenerative medicine, hormone replacement therapy, and other services that can reduce the signs of aging. 
By combining aesthetic medicine like Botox with hormone therapy or regenerative medicine, an anti-aging clinic can allow you to start feeling and looking younger.
How Does Anti-Aging Treatments Work?
Anti-aging treatments work in different ways, depending on the services you need. 
Botox is an aesthetic service that involves injecting a neurotoxin into the muscles that create wrinkles and fine lines. The neurotoxin temporarily paralyzes those muscles by interrupting the signals the brain sends that tell them to contract. This can leave your skin looking smoother. 
Botox is also a good option for those who want to prevent wrinkles from forming because it can teach the muscles in your face not to contract as powerfully. 
Regenerative medicine is an option that an anti-aging clinic in San Diego, such as Accelerate Health, relies on to help you look and feel great. Regenerative medicine can harness your body's natural healing mechanisms and use them to combat the aging process and the conditions it can bring on. 
Hormone replacement therapy is an essential part of anti-aging treatment. Both men and women can suffer an imbalance of hormones as they age, leading to uncomfortable symptoms that can lower their quality of life. 
We offer services that help re-balance hormone levels so you can start feeling like yourself again. Best of all, we use natural, bioidentical hormones to provide our treatments.
The Benefits of an Anti-Aging Clinic

---
Visiting an anti-aging clinic in San Diego can offer many benefits. 
Hormone replacement therapy can help you avoid the symptoms of hormone imbalances that can occur with age. Not only does hormone replacement therapy offer you the chance to feel better, but it can also help prevent some age-related illnesses. 
Another benefit that an anti-aging clinic offers is that the services we offer are minimally invasive. Instead of turning to surgeries and other complex treatments, you can rely on options like regenerative medicine, which uses your body's healing mechanisms to resolve what ails you.
What Separates Accelerate Health From Other Anti-Aging Clinics
Accelerate Health Clinics offers some of the highest levels of anti-aging care in the San Diego, CA, area. With state-of-the-art facilities and experts in regenerative medicine, integrative medicine, hormone replacement therapy, and aesthetic medicine, Accelerate Health Clinics can provide the guidance and care you need to start feeling and looking your best.
I felt a little uncomfortable starting my treatment, but the doctors, nurses and staff were very knowledgeable and helpful throughout the process. I'm thankful I made my appointment. 1 month in and feeling better already!

The Doctors, Nurses and staff at AH are fantastic! They answered all of my questions in a timely manner and I felt comfortable from day 1 of my treatment. Thank you, AH!

Incredibly easy process to get my treatment started. Requested a FREE evaluation, set up my appointment and started my treatment the same day! Highly recommend AH Clinics to anyone.