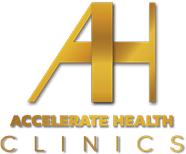 ---
WHO WE ARE

---
Accelerate Health is a full-service anti-aging clinic designed to help you replenish your youth!

We specialize in anti-aging including the latest hormone support therapy, integrative medicine, regenerative cell therapy, botox and Xeomin treatments, IV hydration and specialty lab testing.

Accelerate Health will address your needs and lifestyle while restoring your hormones to more youthful levels.


MORE INFORMATION
FREE CONSULTATION

---
Our Hormone Therapy Process to Get Started:

1. Book your consultation.
2. Run your labs at our local clinic or through a partner lab.
3. Results within 24-48 hours with treatment initiated as soon as possible!

---

---
With our Accelerate Health Program you can expect to receive first class medically supervised care, including:

- Personalized Natural Bioidentical Hormone Replacement Therapy
- Monitoring for appropriate treatment dosages at 1-month,
3-months, 6-months and 1 year in order to optimize results.
- Hands-on guidance with rapid response to all questions you may have about your program.


I felt a little uncomfortable starting my treatment, but the doctors, nurses and staff were very knowledgeable and helpful throughout the process. I'm thankful I made my appointment. 1 month in and feeling better already!

The Doctors, Nurses and staff at AH are fantastic! They answered all of my questions in a timely manner and I felt comfortable from day 1 of my treatment. Thank you, AH!

Incredibly easy process to get my treatment started. Requested a FREE evaluation, set up my appointment and started my treatment the same day! Highly recommend AH Clinics to anyone.