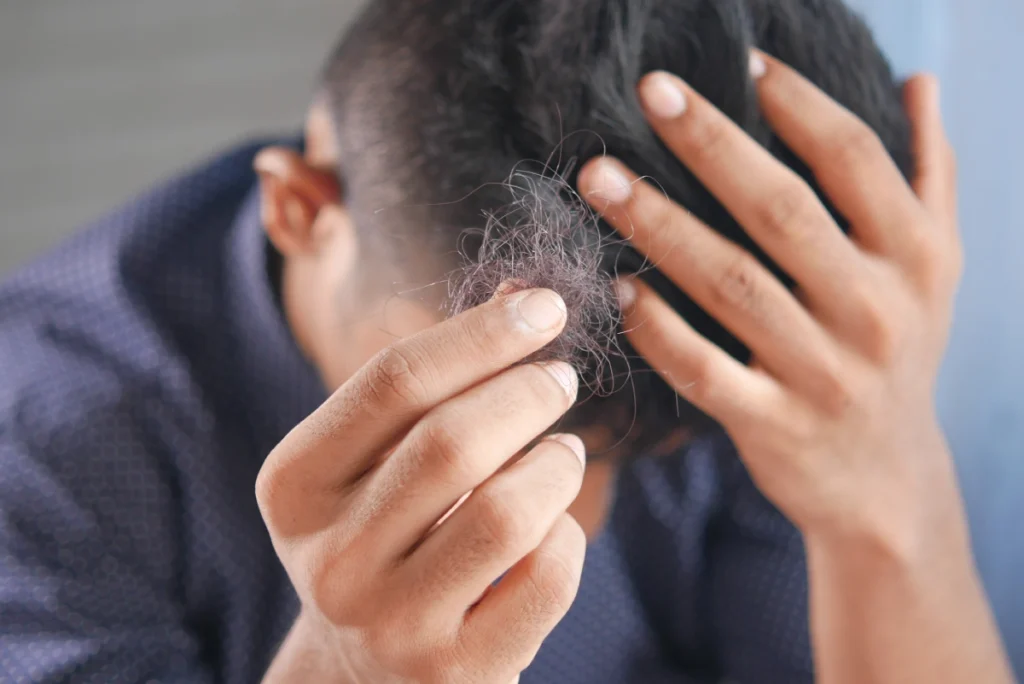 #1 Best Selling Hair Loss Spray
Combines three clinically-proven ingredients (finasteride, minoxidil and biotin) to tackle hair loss and regrowth.
Free consultation with our board certified doctors
3-in-1 spray with Finasteride & Minoxidil
Applied only twice a day (4-6 sprays in the morning & at night)
100% online. Free shipping if prescribed.
Clean and easy to use
Active Ingredients - How it works:
Finasteride keeps your DHT hormone levels in check. DHT is the hormone found on the scalp that builds up and shrinks follicles, eventually closing them for good.
Minoxidil gets to work by waking your follicles back up! Minoxidil increase the amount of time the follicles remain in the active growth phase, allowing you to get new hair coming back in. 
Biotin, also known as vitamin H and vitamin B7, is a water-soluble vitamin that's found naturally in many foods including eggs, salmon, sweet potato, almonds and milk. And, as the experts confirm, it also plays a role in your hair and scalp health.
Get Started on Your
Hair Restoration


Journey
Only available at select locations, such as Accelerate Health Clinics!
Can't be found at stores
Prescription required Easy to use
Mess free 
Accelerate Health Clinics makes regrowing hair simple
Regrow hair in as few as 3 months*
FDA-approved treatments options available
Simple online or on phone process, direct shipping
*Results can take between 3 and 6 months
1. Free online consultation with our board certified doctors. 
Professional medical guidance without in-person visits or long pharmacy lines and can be done from the comfort of your home! 
2. Free, discreet delivery
If prescribed, hair loss treatment comes directly to your door or is available for pickup at our clinic. 
3. Unlimited access to our board certified doctors throughout the process. 
Get unlimited access should you have questions or follow up visits. 
Jack Mangelsdorf
2023-08-16
Staff was amazing
San Diego SNF Hospitalists
2023-08-09
Title: Outstanding INS Services - A 5-Star Experience at Accelerate Health Clinics Rating: ⭐⭐⭐⭐⭐ (5/5 stars) We are thrilled to share our exceptional experience with Accelerate Health Clinics, particularly regarding their INS services for USCIS Immigration Exams. Our organization has been referring all our USCIS Immigration Exam Physicals to this remarkable establishment, and the reasons are more than evident. From the moment patients reached out to schedule appointments, the ease of the process was commendable. The staff at Accelerate Health Clinics demonstrated a deep understanding of the time-sensitive nature of immigration-related medical examinations and form completions. The appointment booking was seamless and accommodating, catering to our patients specific needs effortlessly. Customer service, in a word, was exceptional. The team exhibited a genuine commitment to ensuring a comfortable and efficient experience for both us and our clients. Queries were met with clarity and professionalism, further affirming our confidence in their services. What truly sets Accelerate Health Clinics apart is their astonishingly fast turnaround for form completion. Immigration processes can be complex and demanding, often requiring swift form submissions. Remarkably, Accelerate Health Clinics consistently delivered completed forms well ahead of deadlines. Their efficiency significantly expedited our overall immigration proceedings. In summary, our five-star review for Accelerate Health Clinics' INS services is a testament to their excellence. The outstanding ease of appointment scheduling, impeccable customer service, and remarkable speed in form completion showcase their dedication to delivering top-tier solutions. It's without hesitation that we wholeheartedly recommend Accelerate Health Clinics to anyone seeking reliable and efficient INS Immigration services.
I've been coming to this clinic for the past month, the staff is amazing (Patty and Nina) ensure they provide the most astonishing customer service experience. They truly make you feel comfortable and Patty's very professional and supportive.Nina creates a warm and welcoming environment from the time you walk in until you pay your bill. The office is very clean and organized and you can see how dedicated all the staff are to providing you the best services imaginable. I currently take TRT and their products I have to say are incredible and the quality is outstanding. I use to have low Testosterone now after a month my numbers have improved to the point where I'm starting to see great results with my mental health and physical fitness. Hands down I would recommend this clinic to anyone and everyone who wants to improve their overall mental health and wellness.
It was my first time going to Maddy and I'm so happy with my results. I have been going to my plastic surgeon in the past but ever since I had a bad experience with my eyelids sagging after Botox, I was looking for a new injector. Maddy exceeded my expectations. She accessed my needs as we were conversing and knew exactly what my face needed for improvement. Now I have an amazing lift, no wrinkles & couldn't be happier with the results.
This is my favorite place to get my B12 shots and IVS!! Their IV room looks like a man cave I can spend all day there. Both Patty and Nina are so professional and welcoming every time I come in.
Super sweet nurse! Awesome service!
I went to Dr.Mirkarimi to learn more about Botox and other options for my middle aged skin. I've been apprehensive about getting treatment but I felt at ease when I had all my options explained to me with patience and I felt like I walked away with a lot more ease and a clear plan of what will work best for me. I also signed up to do one of their IV treatments while I was there and it gave me so much energy and I felt so much more alert. It was the boost I needed!! Thankful to have found this inviting office and ready to reverse some of these signs of aging!
Excelente Recomendable 💯😀
Juan carlos Hernandez loaiza
2023-04-12
Excelente atención Excelente atención al paciente Rapidez y Amabilidad
Babak Ariannejad
2023-02-08
One of the best medical experiences I've ever had. From the initial phone call with Nina, to an expert consultation with Dr. Boyd and Dr. Mirkarimi and pain free treatment by Maddy, Accelerate Health has created a unique practice model in preventive health. Run, don't walk to this gem of a clinic.